Disney's viral marketing with 'Let It Go'
Published October 17, 2014 at 8:42 am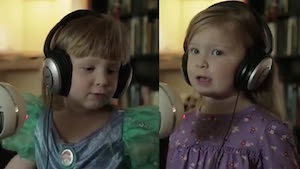 These days, effective marketing doesn't just mean getting the message out there: It's about converting the user so they become a passionate fan of the brand willing to spread the word about the thing they love. Arguably no one has been better at this than Disney, a studio famous for merchandising and producing countless items based on best-selling films, television shows and other properties.
But arguably their most successful recent product is "Let It Go," the Oscar-winning song from the hit animated fantasy film "Frozen," which has proven popular not only among the target audience of children but adults and people who still haven't even seen the movie itself.
Business Insider's Lara O'Reilly recently noted the sly ways that Disney has purposely promoted the song across social media, specifically through YouTube, by letting fans post their own videos related to the song. Although this may have technically been copyright infringement, O'Reilly says the company has made the right choice in ignoring any possible violations, and reaped the rewards of better brand awareness.
"We don't know whether Disney deliberately turned a blind eye to other people publishing Frozen song videos, but we can say those videos actually helped Disney's marketing of the movie — free advertising, in other words," she writes.
Nearly a year after Frozen's release, the film's soundtrack is still resoundingly successful. An Alamo Rent A Car study cited by The Guardian found that "Let It Go" was far and away the most popular song among families traveling with children. And a Broadway theatrical adaptation is said to be in the works, though still a long way in the future.
All of which is to say that your company should take a page from the Disney handbook and evaluate its campaign marketing based on how many people have taken it to heart and become mini-marketers of it themselves.