Do Print options still work, in the digital age?
Published March 10, 2015 at 8:54 am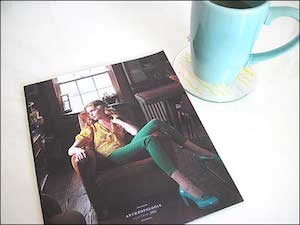 Let's take a closer look at some longstanding staples of direct mail marketing campaigns. We've spoken before about the enduring appeal of catalogs, but a new Harvard Business Review (HBR) article asks the question again: why do old-school magazines sent in the mail still work for companies in the age of Instagram and Twitter? The source says that some retail chains like Anthropologie are even taking the time to launch a new catalog now.
It could be that the novelty of holding a physical magazine appeals to Millennials and more normally tech-focused consumers in a different way. The author of the HBR article, Denise Lee Yohn, says that the catalog also works alongside digital advancements, since companies can now use their stores of customer data to influence their campaign.
"The effect of a broadcast spot or social media campaign on sales may be hard to pin down, but catalogs — with their definitive mail dates and customer and source codes — are easier to track," Yohn writes. "Targeting with catalogs is also much easier now, thanks to huge industry databases containing all sorts of information on millions of households."
Mailing circulars is also still a part of the marketing landscape, according to an article from the Wall Street Journal. Information presented by this source from research firm Borrell Associates shows that these print inserts appear in 50 million houses every year and that more than $5.8 billion was spent on circulars in 2014 alone.
Both of these examples show that some standard direct marketing solutions don't need to disappear in the internet age, and can in fact thrive if handled correctly. Use a coordinated marketing effort to get the benefits of many channels that seem opposed to each other all at once.