Is Facebook the best channel for your brand?
Published July 28, 2014 at 9:30 am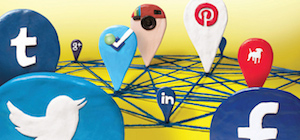 With the various social media channels available today, there are many options for companies to choose from. Figuring out which channel your brand should have the strongest presence on can be a challenge. Facebook is often talked about as one of the social media channels that businesses must have a presence on, and with good reason.
According to a recent article in Tech Crunch, American Facebook users spend 40 minutes a day browsing the site, on average. Facebook CEO Mark Zuckerberg said in a call about Facebook's Q2 earnings that this time accounts for one out of every five minutes spent on mobile. Additionally, the site currently has around 30 million business pages, meaning that while there is a lot of competition for user attention, there is also opportunity to reach your audience where they are spending time.
With this in mind, it is worth discussing that Facebook has been working on its advertising services to improve targeting. As AdWeek points out, it is becoming more expensive as users increasingly use mobile devices to view the site. This has resulted in a competition among brands to draw user attention through the News Feed.
Ad space on Facebook's News Feed may be a hot ticket at the moment, but it's not the only game in town. With Twitter, Instagram, Pinterest and other social sites, brands have many opportunities to create a strong social presence. The key is to determine where your audience likes to spend time and figure out how to best reach them on those channels. Chances are you will have to implement campaigns across multiple channels.
Marketing campaigns involving many channels take a lot of work, but automated marketing software helps streamline this process, allowing your team to become more efficient while achieving the results you want.