Is the new TV Facebook ad effective?
Published October 24, 2014 at 9:25 am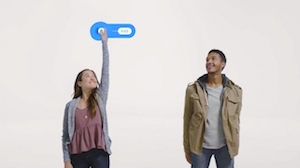 Facebook is promoting itself, specifically its mobile Messenger service, through a new commercial. It's notable because it represents a nationwide attempt to get consumers focused on a particular aspect of its service, and because the Facebook logo isn't necessarily visible.
Following this model, other companies looking to engage users might think about this marketing strategy, one that takes the time to focus on a new service in a creative way. But does it get the message across effectively?
Companies need to walk a fine line between promoting themselves assertively and not disorienting people. Facebook's ad, called "Say Love You Better," shows a young couple sending text and visual messages to each other using visual representations of the sort of content that Messenger can handle.
While this piece is visually striking, it is also so abstract as to leave some confusion for those who don't already know the product. The logo for Messenger, which excludes any reference to Facebook, coupled with the generic name, could leave those less familiar with mobile apps out of luck.
However, some seem to have taken to the spot. AdWeek's Lauren Johnson praised the video and said it is an improvement over Facebook's previous campaigns.
"In the past, Facebook's ads have been criticized for not focusing on the intimate, human moments that social media can spur," she writes. She goes on to call it a "clever take on mobile messaging, which often only mentions texting features in ads. The idea is to show that Facebook Messenger can share much more than text—it includes audio, video and stickers."
Before you even begin campaign marketing or a coordinated advertising blitz, your company should take the time to assess its content and think about the right medium and means of distribution.