Using Snapchat-style marketing
Published December 22, 2014 at 10:25 am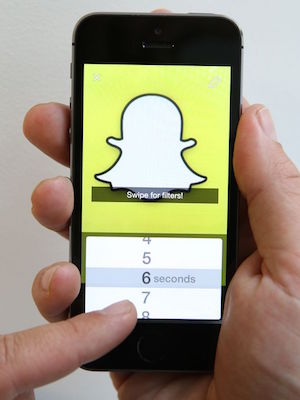 The image messaging service Snapchat has become a possible means for marketers to reach mobile users. While this could seem like an important area to expand into because of its youthful appeal, marketers need to think about the ways this medium will affect their brand message, and their means of leaving a lasting impression upon audiences through images.
Even if you don't market on this platform, your company could take cues from Snapchat's popularity and try to create something that feels similar. One example of an ad campaign based  on this service BMW's "Snowchat" initiative, which directs target consumers to a website that mimics Snapchat's "disappearing message" function. Users can create designs and messages that appear on the image of a snow-covered BMW windshield.
Although it's only copying the app and not specifically advertising on it, this campaign does reflect some of the principles that make Snapchat so appealing in the first place. Writing for Forbes, Jayson DeMers says that the key to understanding it is acknowledging the "casualness" that the app promotes. He suggests researching this service before using it for any marketing purposes.
"When your marketing team is creating a strategy for Snapchat, you need to settle on a tone of voice that will be used across the board," he writes. "Ideally, the language you use should be easy-to-understand, and your posts should have a sense of fun."
THe more you understand about how customers relate to different channels, the more effective your efforts will be in using each one. In addition to that, you can take a decentralized marketing approach that gives all of the different platforms the same amount of attention and helps your business maintain brand continuity.