Whole Foods launches first ad campaign
Published October 23, 2014 at 7:54 am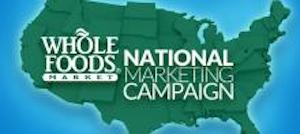 New ad campaigns always have the potential to start a conversation, and they're especially noteworthy when your business has avoided using one in the past. Popular grocery store Whole Foods has begun a new marketing initiative to focus on the brand's core values and drive home the message of natural and healthy living. These themes have always been a part of the company, but now are coming to the foreground.
A press release from the company outlines the way Whole Foods is addressing the concept of "food consciousness " for consumers. Part of this is promoting the various acknowledgements the business has received over the years from associations like Greenpeace.
Another part has included a series of more than 20 video ads that have recently debuted on YouTube, touching on several different types of produce and suspected to have cost millions of dollars.
Jeannine D'Addario, vice president of Whole Foods Market communications, said that this is an opportunity to educate those who still aren't familiar with Whole Foods' core values. The rallying cry of this campaign is "value matters," a slogan that fits in with the way that the chain wants to be seen.
"Not everyone knows what makes Whole Foods Market different from other grocers, or the fact that no other retailer has standards as demanding or as transparent as ours," she said. "This campaign will distinguish what makes our brand special, our food different and our quality superior."
While the company wants to expand its customer base, it is trying to do so in a way that doesn't change what Whole Foods represents at its heart. Any campaign marketing event should try to follow these broad strokes as a business grows and expands in the current marketplace.