Banner ads in 2014
Published October 28, 2014 at 8:02 am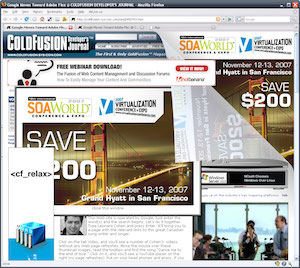 One of the most well-known forms of online marketing is the banner ad. Even as other tools have emerged to help companies reach their targets, the banner ad has persisted, a long-standing internet presence familiar to most users of a certain age. A recent piece for Fast Company illustrates the history of this ad, which dates back to a promotion for AT&T that appeared on Wired Magazine's HotWired site in 1994.
Back then, the ad (which actually launched simultaneously with several others) captured attention through a sense of mystery. It had a message in rainbow font against a black background asking visitors, "Have you ever clicked your mouse right here?" with an arrow pointing to the words "You will." Later, this would be transferred into a series of television ads.
These days, the banner ad isn't seen as especially effective, and that sort of banner in particular is likely to be greeted with distrust. But the source quotes Wonderfactory's CEO Joe McCambley on these early attempts at web ads, who said that creating a banner strategy "was like using a box of crayons—except there weren't even 32 colors to choose from."
This first AT&T banner kicked off what an infographic on AdWeek calls "the Banner Era," which led to other innovations like the invention of AdWords, the triumph of social media and the modern era of automated marketing solutions.
Following in this tradition, your business should use the power of campaign automation to continue making marketing pieces that will catch the user's attention immediately. The internet has changed a lot over the years, and using the latest techniques will help your business stay relevant.