Snapchat now open to advertisers
Published October 21, 2014 at 9:34 am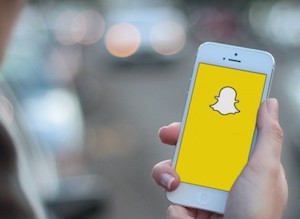 Even the most unlikely social media channels are possibilities for enhancing an online ad campaign. One example of a neglected platform for marketing is Snapchat, but the Washington Post recently announced that Universal Studios is taking to the micro-messaging service to promote the upcoming horror film "Ouija." Because Snapchat specializes in fast, self-destructing messages, it would seem to be imperfect for ads.
However, in an official blog post on the company's website, Snapchat described its new approach to ads and said it would be "taking the plunge." In an attempt to position marketing content in a way that doesn't alienate users, the service will be placing links to ads in the feeds of users. Once users open these ads, they disappear just like regular messages and will leave the feed if users ignore it for a full day.
While it remains to be seen what effect this will have on online marketing as a whole, Snapchat says that it is attempting to solve some of the problems brought up by traditional marketing strategies and create a more streamlined experience.
"The best advertisements tell you more about stuff that actually interests you," the blog post reads. "Some companies spend a lot of time and collect a lot of data about you to figure that out. The product we're releasing today is a lot simpler."
Since "Ouija" is also targeted at teenagers, the core demographic of Snapchat users, this medium is a perfect one for the product and will be ideal for reaching the right audience. Variety says that Universal is also using YouTube as part of this campaign.
Part of multi channel marketing is looking for the most effective option for each campaign. Spend time researching, as new opportunities open up as more channels focus on marketing.